With the blustery cold weather outside and the occasional snow flurry, staying indoors and enjoying a nice bowl of hot, creamy soup is just what the doctor ordered.
This Creamy Butternut-Carrot soup is my latest experiment with leftover vegetables from my last trip to the farmer's market.
Here's the recipe: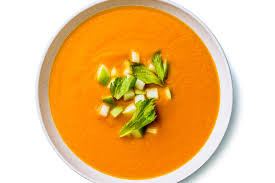 Ingredients:
1 medium butternut squash.
1 pound of steamed carrots cut into 1″ pieces
1 cup heavy cream (can also use 1 cup whole milk and 1-2 tbsp corn starch)
1 medium onion (chopped)
3 cups water (divided)
2 cups low-sodium gluten-free chicken broth
2 tbsp olive oil 2 tbsp unsalted butter
2 cloves of garlic
1/4 tsp cayenne
1 tsp salt
1/2 tsp black pepper
Directions:
Preheat the oven to 450 degrees F. Steam the carrots (frozen or canned also works). Wash and slice the butternut squash lengthwise into two equal pieces. Using a spoon, scoop out the seeds leaving a smooth cavity in both squash halves. Place the squash on a baking sheet, sliced side up and baste each half with a tablespoon of olive oil. Bake in preheated oven until tender (30 to 40 minutes). When done, remove the squash and allow to cool before scraping out the squash flesh. Discard the skin. In a Dutch Oven heat the butter on medium heat until it begins to bubble. Add the onion, garlic and spices and saute until onions are translucent (about 1 to 2 minutes). Add the squash flesh, carrots, remaining water and broth. Cover the pot and allow to simmer undisturbed for 20 minutes. Remove from heat and ladle half the mixture into the blender and puree for 1 to 2 minutes. Repeat the process for the second batch. Blend the two batches together in a sauce pan or use the same Dutch Oven. Stir in the heavy cream and heat the soup to the desired temperature for serving. Season with salt and pepper to taste. Serve with gluten-free croutons, a dollop of sour cream or a sprinkle of gluten-free bacon bits.
Enjoy!